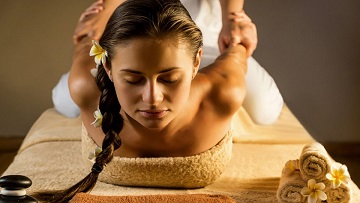 Muscle pain can be troublesome and annoying, it can influence your ability to remain active, energetic and live your life to the full. A Thai Massage aims to relieve pain in joints and sore muscles through a vigorous yet comfortable set of yoga-like stretches. During a Thai Massage in Dubai international city, a therapist stimulates different pressure points to improve circulation of the blood and internal energy. The deep and continuous strokes into the muscle tissue result in easing of muscle pain and any tension to restore the former elasticity. Sore muscles and joints relax and retrieve normal functioning which soothes pain and de-stresses the body.
Another positive effect of Thai Massage is its efficiency in burning fat and the help it provides in shaping up your body. A Thai Massage is recommended both during and after any weight loss as it can considerably help to prevent stretch marks and any loose skin. A Thai Massage will help to increase your flexibility whilst also assisting you to get fit and toned

The Massage motions are slow, relaxing and rejuvenating, meaning a Thai Massage will give you an enjoyable feeling of calm and increased vitality. Call and make an appointment with one of our professional therapists for a healing session of Thai Massage. Treat your muscle pain and improve your general health with the wisdom of the Orient.